Jim Woodring has taken the artwork for Fade and interpreted it into The Tree, a set of three figurines and a DVD produced by our friends at PressPop! We'll let them describe the rest:
Experience the magical collaboration of Yo La Tengo and Jim Woodring. The three band members, Ira, Georgia and James come to life as 3 original characters in the land of "the Tree!"
Present/past/future, the real/unreal, visible/invisible, sadness/joy…… "the Tree" will grow, enveloping all. And the ecstatic creatures that inhabit "the Tree" are the 3 beings blessed by the god of music. The curtain has been raised for Woodring's mysterious and psychedelic dream land. But the story has just begun……
This product is a set of DVD and 3 soft-vinyl dolls. The DVD contains an original animation (5:20 minutes) of a mind-blowing colorful dream world that centers on "the Tree" and the 3 whimsical characters. It is made by a Japanese production company that specialize in hand-drawn animation: drop. And of course, All NEW music by Yo La Tengo! The 3 colorful soft-vinyl dolls were sculpted by Japanese master sculptor: Tomohiro Yasui. Beautiful packaging design by Jim Woodring with a bonus comic on the back.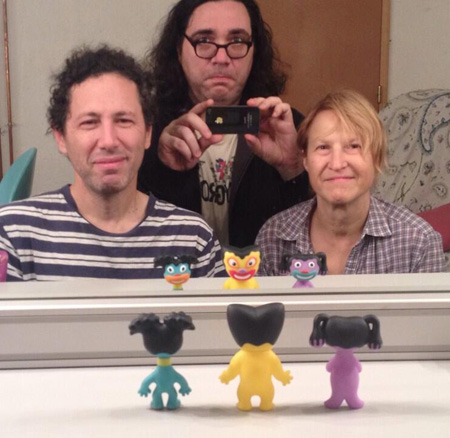 all pics by James McNew
You can order the figures through Matador Records or direct through PressPop. Watch a commercial below: